Magellan Explorist GC

FAQ: Geocaching
How can I get geocaches onto Magellan Explorist GC?
The Explorist GC appears as a mass storage device. Ulttimately, a pocket query from geocaching.com loaded to the device will show up as geocaches on the screens. Groundspeak will have a "Send to GPS" plugin on the site or Magellan's Vantage Point can be used to do the transfer. But if you're a premium member at Groundspeak, you can just build your pocket queries and drop them right onto the device.
Programs like GSAK and GPSBabel that know about pocket queries require no modifications to communicate with these devices, though they may be modified to take advantage of additional feature.
What geocache data is available?
Pretty much everything on the cache page. Here are some screen captures.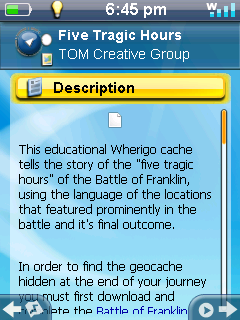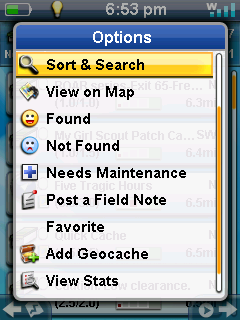 How many geocaches will it hold?
The Explorist GC will hold 10,000 geocaches.
How's performance with 10,000 geocaches?
Surprisigly spiffy. I loaded 8,200 into it. The next boot was sluggish as it was parsing the GPX file into its internal tables, but operationally, it was fine. Searches and map zooms weren't noticably slower.
Will the device run a Whereigo cartridge?
No. It does display the Whereigo icon for geocaches of that type, but the Explorist GC does not run Whereigo cartridges.
Are geocache attributes supported?
Yes. Attrributes from Groundspeak's 1.0.1 extensions in Pocket Queries are read and displayed.
Can I filter what shows up in the list and on the maps?
Yes.