Magellan Explorist GC

FAQ: Waypoints
What is a waypoint?
A waypoint is a stored position. It can be created on the Explorist GC or a host computer. An example of a waypoint might be a parking spot, your home, or a hunting blind.
How is a waypoint different than a geocache?
They're similare in that they're both a marked location, but it doesn't contain the position of a gamepiece of the geocaching game and doesn't have dedicated spaces for information specific to that.
How can I create a waypoint on the device?
From the main menu, choose "Waypoints" (it's the thing that looks like a flag). This brings up a list of waypoints in the device. Menu->Add Waypoint will give you options to place it from your current location, on a map, by coordinates, or relative to your current location (projection). You can then edit the description on the device
.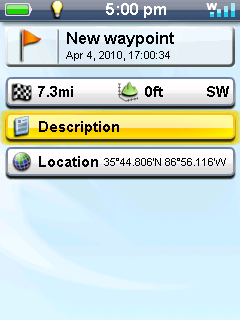 How do I transfer waypoints to or from a computer?
The Explorist GC shows up as a mass storage device on your computer. This means it requires no device driver for any modern Windows, Mac, or Linux system; it looks just like a USB memory drive. In the folder structure, there is a directory of Waypoints that will have GPX files in it. You can copy GPX files to and from the device. Remember to unmount or "safely remove" the device from the computer when you're done.
How many waypoints can the Explorist GC hold?
Explorist GC will hold 500 points.
How long can the name of waypoint be?
Experimentation hasn't shown a practical limit yet. Your patience of entering a description on the tiny keypad will likely be the limiting factor.